This qualification has been developed to enable individuals to gain skills and knowledge to support the delivery of the National Curriculum through outdoor play and activities.  This will support educational organisations, home educators, ranger services and others to offer outdoor learning and increase opportunities for the delivery of outdoor learning linked to National Curriculum subjects.
Health and safety, integrating the school curriculum into the outdoors and practical tasks in the outdoors are key aspects of this qualification.  Learners will be able to gain knowledge and skills on a range of chosen subjects from play work to gardening.  Learners who successfully complete this qualification may move directly into teaching delivery of the National Curriculum in outdoor settings.
Contact Maddy on maddy@dorsetforestschool.org or on 07957 390087 for advice and to discuss your options.
Level 3 Beach Teach – 6 credits
Here in Dorset we are fortunate to have the UNESCO World Heritage Site Jurassic Coast within reach.  Beach School encourages a thoughtful understanding of our role as guardians of the precious Jurassic Coast environment.  
This level 3 course is available to those who have completed either Level 3 Forest School Leader or Level 3 Outdoor Curriculum Co-ordinator.
The two-day course covers three units of study including;
Beach safety

Practical skills for the beach

Beach environment.
After the initial training days, trainees are required to run minimum of four beach-based sessions where they collect evidence to complete their portfolio.
Contact Maddy on maddy@dorsetforestschool.org or on 07957 390087 for advice and to discuss your options.
Our tutors have a wide variety of knowledge and experience and – most importantly – are practitioners who still run Forest School programmes.
Lead tutor, Maddy Irvine, is co-founder of Dorset Forest School. She is experienced in working with children of all levels of ability, including those with behavioural and social communication needs. She has developed Forest School provision for schools and services such as the Quay School, Poole (for students who cannot access mainstream education) and the Child and Adolescent Mental Health Service (CAMHS) and she runs sessions for Poole Short Breaks (holiday activities for children with disabilities).
Maddy initiated and managed a 5 year project bringing Forest school to 35 Dorset primary schools as part of the Dorset Ridgeway Landscape Partnership. This included consultancy on site design and the mentoring/training of teaching staff to lead Forest School within their schools.
Maddy currently runs a pioneering programme at Studio School, a land-based secondary school in Dorchester, delivering Forest School to students in years 7, 8 and 9. She is adamant that all students can benefit from having this provision – from high achievers to those struggling at school. She is demonstrating that time spent in the woodland environment supports social and emotional development as well as nurturing an affinity with the natural world. This sets up students to be better learners both in and out of the classroom and supports them in reaching their full potential.
Level 1 Award in Forest school Ethos and Principles
Level 2 Award in Forest school assistants
Level 3 Award in Outdoor Learning
Level 3 Certificate for Forest school leaders
Our Forest School qualification is the one recognised by the Forest School Association and is accredited through Open College Network West Midlands. Training days take place in woods near Dorchester.
Our site is ideally located to practice how to use fire and tools safely and to discover how to care for the woodland environment. If there is 'whole school' approach and there are a minimum of 8 trainees, we can run training from school sites across Dorset, Bournemouth, Poole, South Somerset and East Devon.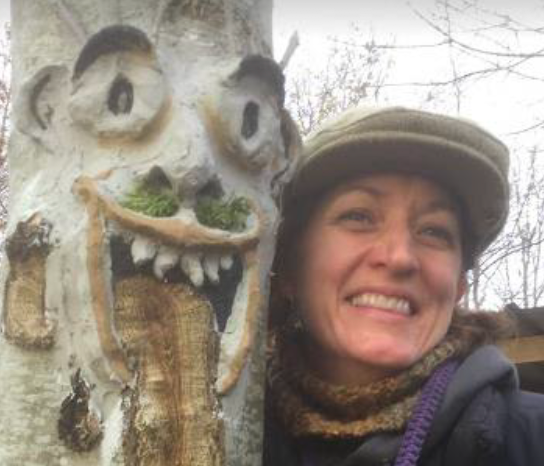 Maddy Irvine
Co-founder
Maddy co-founded Dorset Forest School in DATE. With a degree in Natural Sciences and a background in working for youth, education and environmental charities, her passion for Forest School bring all her experience under one canopy. She is actively involved in the development and running of Forest School provision in Dorset and is a Level 5 DET and Coastal School leader, teaching a range of Forest School and Outdoor Learning courses.
Helen O'Hara
Leader
Helen O'Hara is Level 3 Forest School and Outdoor Learning Leader, PGCE and has vast amount of experience in special needs education and behavioural support. Helen brought her magic to South Dorset Ridgeway outdoor learning project.
What others say about our courses:
I have thoroughly enjoyed the course, and learnt so much.
I thoroughly enjoyed this course – I loved the use of tools and it's really developed my confidence. I particularly liked your anecodotes and the folklore that you brought into the course.
It has been a great experience and I am so glad I did it with Dorset Forest School. The children are thriving and growing all the time.
Our key aim here at Dorset Forest School is for all children in Dorset to access Forest School, which is why we are passionate about training others. There are a number of options for how we can take you through training, some of which are subsidised.
You first need to decide which training is most appropriate for you: Please contact Maddy using the link below or complete our contact form to explore your options.